Spanish and Basketball Camp in Spain
Spanish and Basketball Camp in Alicante: Language immersion course
Every day, participants at the basketball camp have 3 language lessons (12.5 hours of language lessons per week):
3 English classes for Spanish-speakers
3 Spanish classes for non-Spanish-speakers
Language Lessons higlights
English or Spanish language courses taught by Zador language School in Alicante are designed to obtain practical results in Spanish or English language skills: verbal fluency, quick listening and reading comprehension, as well as correct writing.
Language lessons are taught by fully qualified professionals who have ample experience in teaching languages. The teachers use imaginative techniques and systems, some traditional and others innovative, encouraging the students to obtain the maximum results while they are with us.
English or Spanish language lessons Highlights
Levels: From Beginners to Advanced.

Place: Language lessons at Zador Language School.
Duration: 1 or 2 weeks.
Number of lessons: 2h30 lesson per day
Material and/or book: Included in the price.
Timetable: From 16:00 to 18:330 Monday to Friday.
Level Test (written and oral test) on arrival.
Certificate of Attendance at the end of the course.
General language and vocabulary about sports and basketball.
English or Spanish lessons in small groups with a maximum of 7 students.
English or Spanish course with Communicative Focus
English or Spanish Language classes take on a communicative focus. Working on oral and written comprehension and expression, the priority is developing communication skills.
The content of the language classes varies in accordance with the age of participants and their level. Basketball vocabulary is also included to allow participants to be able to understand their coaches.
In class, an emphasis is placed on developing oral expression, with language lessons structured around the completion of exercises continually focused on putting into practice the vocabulary, grammatical structures and communicative functions that are most important in our daily lives, each adapted to the course level: activities in pairs, role-plays, presentations...
Our aim is not only to teach another language but to introduce teens from different countries to each other to discuss and compare their lives, issues and concerns while speaking a new language.
English or Spanish language lessons in small groups
Spanish or English courses in small groups with a maximum of 7 students per classroom allow students to get the most from a personalized language teaching method, facilitate active and dynamic participation in class, maximize the use of classroom interaction techniques, thus facilitating your ability to speak Spanish fluently.
FOR 2021 DUE TO COVID
Zadorspain Camps includes as a present CANCEL FOR ANY REASON TRAVEL INSURANCE FOR overnight campers: you will never lose the amount paid including Basketball Camp and flights costs. For DAY CAMPERS, please consult us.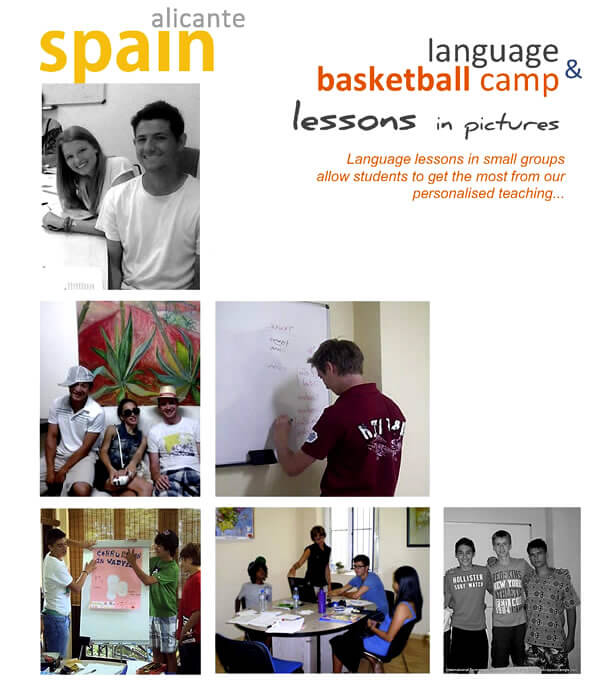 Language lessons with a communicative approach to improve Spanish or English speaking skills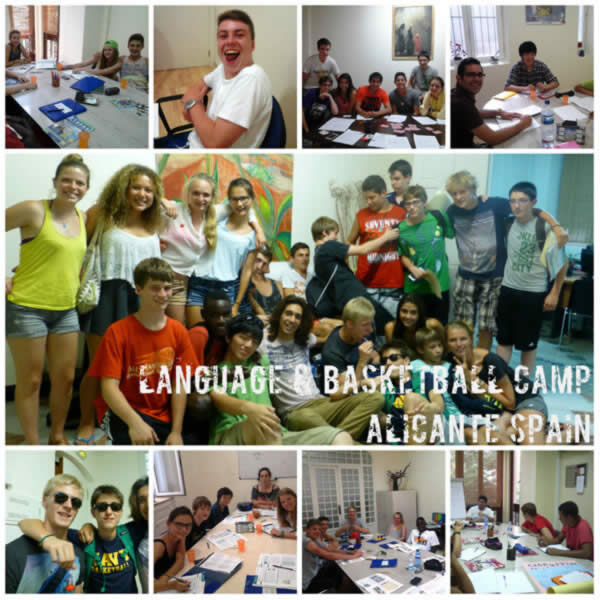 Basketball Camp Website in other languages:
About ZadorSpain Camps
Language Courses

ZadorSpain, a Language Services Company with more than 30 years of experience, organises and promotes Language & Basketball Summer Camps in Spain. ZadorSpain, operating in Vitoria since 1990 and in Alicante since 2004, organises study abroad programs for foreigners in Spain.

Language & Sports Camps

Zadorspain organizesSport summer camps in co-operation with accredited Sport Clubs such Laboral Kutxa Vitoria Baskonia Basketball Club in Vitoria, Tennis Comp Academy and the Mediterranean Sailing School in Alicante.

Summer Camps for Juniors & Children

International Summer Camps in Spain for teenagers and children: 2, 3, 4, 6 or up to 8 week Spanish language course and sports camps -professional and experienced trainers and coaches from well-known and reputable sports clubs and schools- with Spanish teenagers and children in Alicante, Valencia region, or in Vitoria, Spain.
Basketball Camps in Spain Contact
Basketball Camps News