Overnight Basketball Camp in Alicante with Hotel-Residence Accommodation
The housing for the residence camp participants has been carefully selected and inspected by Zador staff taking into consideration safety, location, food quality, comfort and services and attention provided by hotel staff.
You will live with other campers from Spain and from other countries in a Hotel with different rooms for boys and girls.
Players staying overnight live in twin or triple rooms in Hotel-Resience Villa Universitaria. All rooms are equipped with air-conditioning and WIFI internet connection. *Single rooms available on request.
3-star Hotel-Residence Accommodation
The Hotel-Residence is situated in the university area, about 15 minutes by transport from the basketball courts and the language school in Alicante citycentre.
All rooms are exterior-facing and are exceptionally bright. Each room has a fully-equipped bathroom, WIFI Internet connection, TV,and air-conditioning. These 18 square metre rooms are fully-furnished with 2 or 3 beds, wardrobe, and study desk.
Services at the hotel-residence
It is a modern building with a canteen and restaurant, TV rooms, computer room, laundry facilities and several common areas to relax as well as a swimming pool.
Bedding and towels are provided. Players should bring their own towel for training and for use at the swimming pool or beach.
Full-board accommodation with buffet-style menus
Sportsman's breakfast: fruit, cereal, yoghurt, milk, ham or cheese, bread roll...
Lunch: self-service with starter (variety of salads), first course (rice, pasta, soups), main course (fish and/or meet) and desert (fruits, cakes, ice-creams, etc.)
Bottled water and snack during the basketball training sessions
Evening meal: self-service with starter, main course and dessert.
At the weekend players have breakfast and an evening meal at the Resience and are provided with a packed lunch to take on excursions.
Day participants can opt to include or exclude lunch from their camp programme.
*Special menus for students with food allergies or other dietary restrictions are available
Safety and supervision
The camp director, basketball coaches, assistants and coun-sellors stay in the same building as the students and provide 24-hour supervision. Safety for all students and staff is a top priority for Zador.
Outside the summer period, it is a University residence and a ***Hotel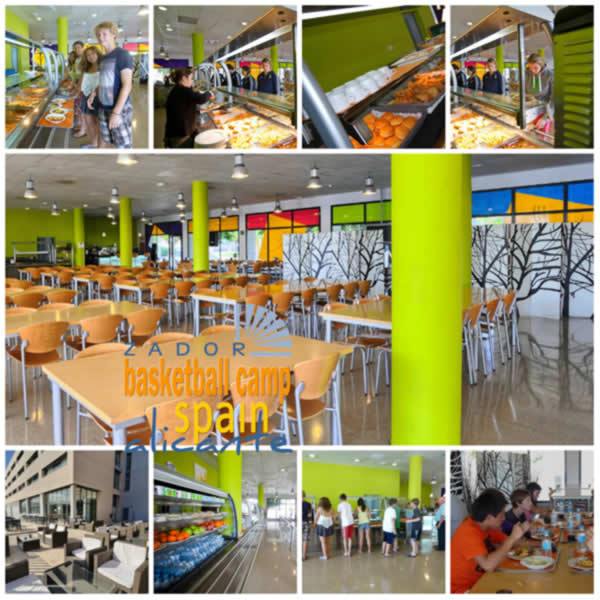 Basketball Camp Website in other languages:
About ZadorSpain Camps
Language Courses

ZadorSpain, a Language Services Company with more than 24 years of experience, organises and promotes Language & Basketball Summer Camps in Spain. ZadorSpain, operating in Vitoria since 1990 and in Alicante since 2004, organises study abroad programs for foreigners in Spain.

Language & Sports Camps

Zadorspain organizesSport summer camps in co-operation with accredited Sport Clubs such Laboral Kutxa Vitoria Baskonia Basketball Club in Vitoria, Tennis Comp Academy and the Mediterranean Sailing School in Alicante.

Summer Camps for Juniors & Children

International Summer Camps in Spain for teenagers and children: 2, 3, 4, 6 or up to 8 week Spanish language course and sports camps -professional and experienced trainers and coaches from well-known and reputable sports clubs and schools- with Spanish teenagers and children in Alicante, Valencia region, or in Vitoria, Spain.
Basketball Camps in Spain Contact
Basketball Camps News