Registration Basketball Camps in Spain
Enrolment for Basketball Camps in Alicante and Vitoria
Choose the Basketball Camp you want to attend and fill the corresponding online form.

Spanish and Basketball Camp Alicante (17-31 July 2022. REGISTRATION OPEN)
Basketball Camp Vitoria (26 June-10 July 2022. REGISTRATION OPEN)
Fill in the online registration form.
If there are more than one player, please fill one for each player.
Please, check that you filled al the items with * -if not, it is impossible to send the form.
After sending the form, the webpage becomes blank and it will appear a message on the upper part of the page starting with the sentence: "We already have received your registration..." and therefore all the information is in our date base.
In two business days, you will receive an email with the price including all the services chosen by you and the information to make the payment.
The registration is not valid until we receive all the payments. The assignment of the places will be carried out according to the order of reception of the registration forms and the total payments.
When you make the Bank Transfer, include the registration code and player's name and please send us by fax or by email the copy of payment.
Once the enrolment form and the copy of payment have been received, we will send you an email with the Confirmation.
Two weeks before the beginning of the camp, you will be provided with a Handbook or with a name and a password to enter a private area for Registered players on our Website, with useful information about the Camp.
If you have any doubt or question, please do not hesitate in contact us: basket@zadorspain.com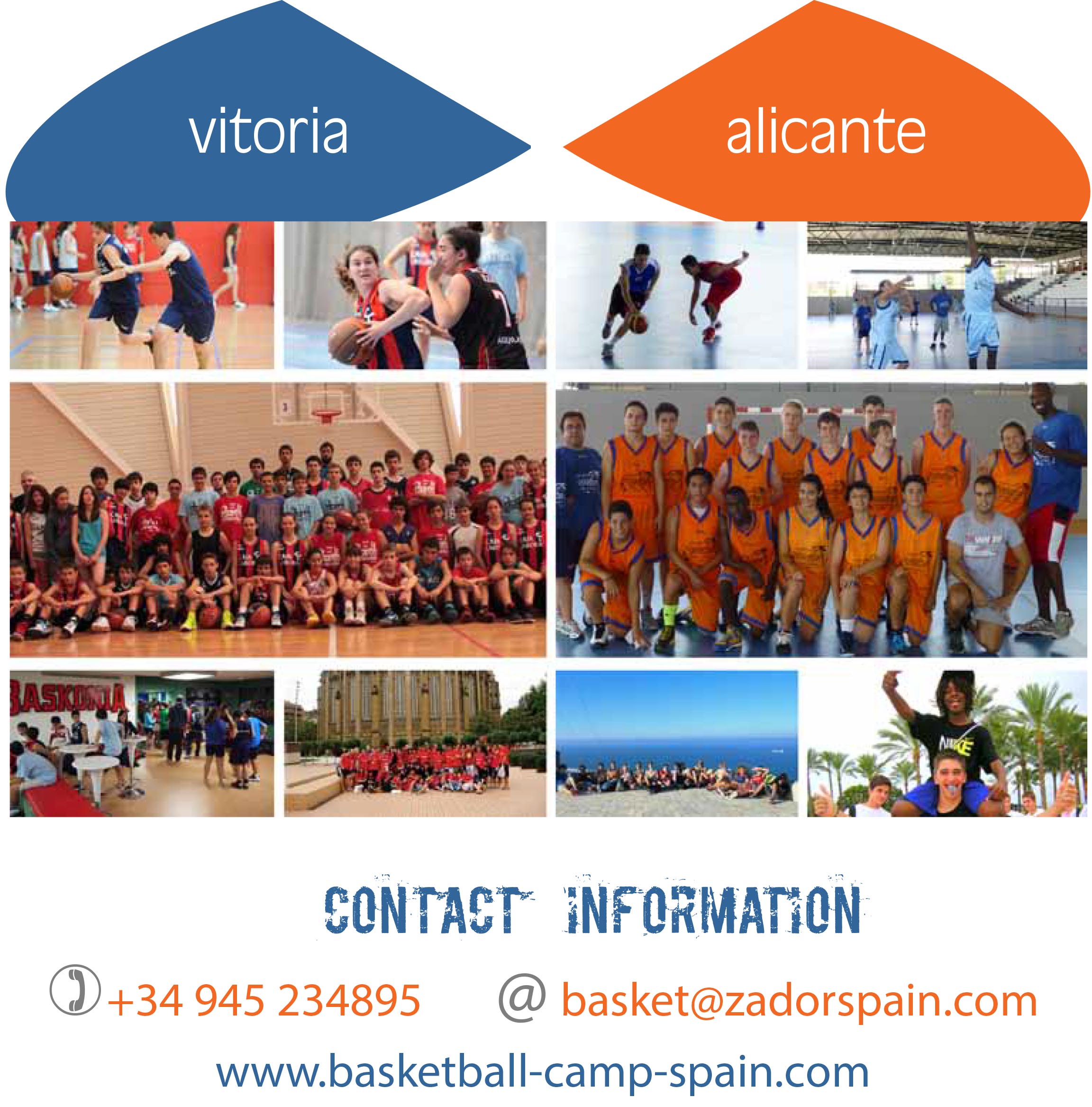 Available seats Basketball Camps in Spain 2022
Basketball Camp Website in other languages:
About ZadorSpain Camps
Language Courses

ZadorSpain, a Language Services Company with more than 30 years of experience, organises and promotes Language & Basketball Summer Camps in Spain. ZadorSpain, operating in Vitoria since 1990 and in Alicante since 2004, organises study abroad programs for foreigners in Spain.

Language & Sports Camps

Zadorspain organizesSport summer camps in co-operation with accredited Sport Clubs such Laboral Kutxa Vitoria Baskonia Basketball Club in Vitoria, Tennis Comp Academy and the Mediterranean Sailing School in Alicante.

Summer Camps for Juniors & Children

International Summer Camps in Spain for teenagers and children: 2, 3, 4, 6 or up to 8 week Spanish language course and sports camps -professional and experienced trainers and coaches from well-known and reputable sports clubs and schools- with Spanish teenagers and children in Alicante, Valencia region, or in Vitoria, Spain.
Basketball Camps in Spain Contact
Basketball Camps News