Basketball Training Camp in Alicante Spain
An international basketball training camp in Spanish and English, with coaches and assistants from both Spain and the USA.
This is a Development Basketball training Camp for campers from the age of 14 to 18 who already have a minimum of 4-5 years playing experience.
An average of 4 hours per day devoted to basketball training: basketball training focused on individual technique, group training and competitions. Intense basketball training with a variety of teaching techniques are used to achieve optimum results.
A development Basketball training Camp with a ratio of 1 coach per 6-8 players to ensure participants receive personalised training and support.
Regarding the age, we try to have a balance camp, and we form the training groups according to the age and basketball level.
The Camp will develop both individual and team Basketball techniques. Competitions are important, but not as much as developing individual basketball skills.
The camp is designed for players who seriously want to improve their game.
An average 4 hours per day Monday to Friday of intense basketball training to improve your technique and get results.
Basketball lectures (30 min)
On several days basketball training sessions starts or ends with basketball lectures covering a wide variety of topics:
Psychology and basketball
The 10 commandments of the bench
Learn by watching a basketball match
Being a basketball player: the pros and cons
Work and succeed
Shooting training and group training
Warm-up / strength and conditioning (20 minutes)
Initial warm-up in whole group with a dynamic and fun game that adapts the rules of basketball
Games with stretches
Stretching in groups to begin concentrated individual technique sessions.
Individual Basketball technique training stations (12 minutes per station)
intense ball hand-ling drills
shooting off the dribble
pass and play
receptions
playing without the ball
defense balance, defense press...
Dribbling & Shooting station (20 minutes)
Basketball drills in real shooting situations designed to correct mistakes, improve technique and to help players perfect their mecha-nics:
free throw,
3 pt. shot,
pull-up jumper,
step back shot,
spin move,
euro-step, etc.
Teamwork in basketball (1 hour)
Stations to develop team play with focus on reading the defense, passing situations, use of locks:
1 on 1, 2 on 2, 3 on 3, 4 on 4, 5 on 5
Games and competition
Coaches and assistant coaches
David Gil, senior basketball coach and assistant coach in the Spanish League, is the sports consultant in charge of planning training sessions.
Camp coaches include Mladen Jegdic, FIBA senior basketball coach from Serbia; Borja Gabilondo, Unax Rico and other senior coaches with extensive experience for both boys and girls U18 having training in basketball for many years.
Assistant coaches with extensive experience of coaching at youth levels and at camps
On-site physiotherapist at training sessions.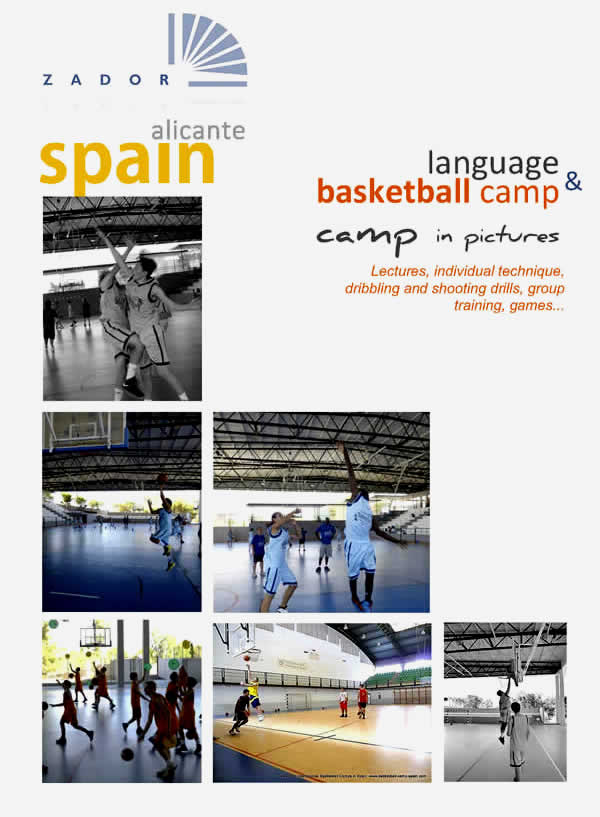 Basketball Camp facilities

Players train every morning in indoor sports.
The basketball facilities are carefully selected to ensure the best conditions for players and avoid the heat and humidity of the summer months on the Mediterranean coast.
2 Sports Halls (10 hoops) near the hotel 10 or 15 minutes walking.
Provided transports when needed.
Both venues have female and male changing rooms and toilets, and comply with all safety requirements established by law.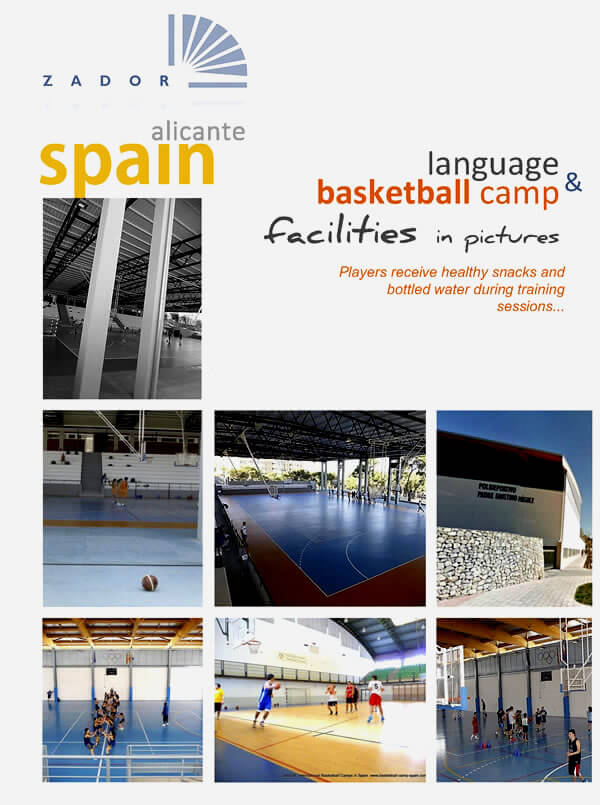 Learn Spanish, take part in an International Basketball training Camp, make friends from different countries, enjoy the beach and have fun in a Summer Camp in Spain
Basketball Camp Website in other languages
About ZadorSpain Camps
Language Courses

ZadorSpain, a Language Services Company with more than 30 years of experience, organises and promotes Language & Basketball Summer Camps in Spain. ZadorSpain, operating in Vitoria since 1990 and in Alicante since 2004, organises study abroad programs for foreigners in Spain.

Language & Sports Camps

Zadorspain organizesSport summer camps in co-operation with accredited Sport Clubs such Laboral Kutxa Vitoria Baskonia Basketball Club in Vitoria, Tennis Comp Academy and the Mediterranean Sailing School in Alicante.

Summer Camps for Juniors & Children

International Summer Camps in Spain for teenagers and children: 2, 3, 4, 6 or up to 8 week Spanish language course and sports camps -professional and experienced trainers and coaches from well-known and reputable sports clubs and schools- with Spanish teenagers and children in Alicante, Valencia region, or in Vitoria, Spain.
Basketball Camps in Spain Contact
Basketball Camps News