Basketball summer camp in Alicante Schedule
You will find weekday and weekend timetables for the Language and Basketball summer camp in Alicante. It may be subject to minor modifications. All entry tickets or activity costs are included in the summer camp fees. However, if campers would like to drink or to eat outside of the camp they have to pay for it themselves.
Typical Monday to Friday schedule for overnight basketball camp
7:30 Wake‐up
8:00 Breakfast
9:00 Departure for basketball training
9:30 Basketball training sessions
10' Warm-up
20' Counter attack session
12' minute stations focusing on different elements of individual technique Drink & snack break
1hr 30' Group sessions (1x1, 2x2, 5x5, shooting competition)
Shower
13:30 Return to the hotel
14:00 Lunch and free time (swimming pool, "siesta"...)
15:30 Departure for the Language school or for the afternoon basketball training session
16:00 Language lessons or basketball training
18:30 Free time activities: Trip to the centre of Alicante (including the city centre, castle, beach, shopping, evening tapas, karaoke, Fiesta Museum, treasure hunts in English and Spanish, etc.)
21:00 - 21:30 Return to the hotel
21:30 - 22:00 Dinner
22:30 Free time Internet access, films, games at the beach or at the hotel, card games, etc.
23:30 Lights out
Day participants at the camp leave after language lessons or basketball training at 18:30, and do not take part in the weekend activities.
Typical Saturday schedule
9:30 — Wake-up and wash
10:00 — Breakfast
11:00 — Travel with camp counsellors to El Postiquet beach, to San Juan beach or by boat to the Island of Tabarca or to a nearby village such as Altea or to Aqualandia Water Park
13:30 — Picnic lunch and games
20:00 Return to the Hotel
23:00 Dinner and Farewell party
02.00 Lights out
Typical Sunday timetable for players attending a 2-week basketball camp
9:00 — Wake-up and wash
9:30 — Breakfast
10:00 — Departure for Valencia to visit the City of Arts and Sciences, Terra Mítica or Terra Natura Amusement Park.
20:00 — Return to the residence
20:30 — Evening meal
21:30 — Games at the hotel
22:30 — Free time
23:30 — Lights out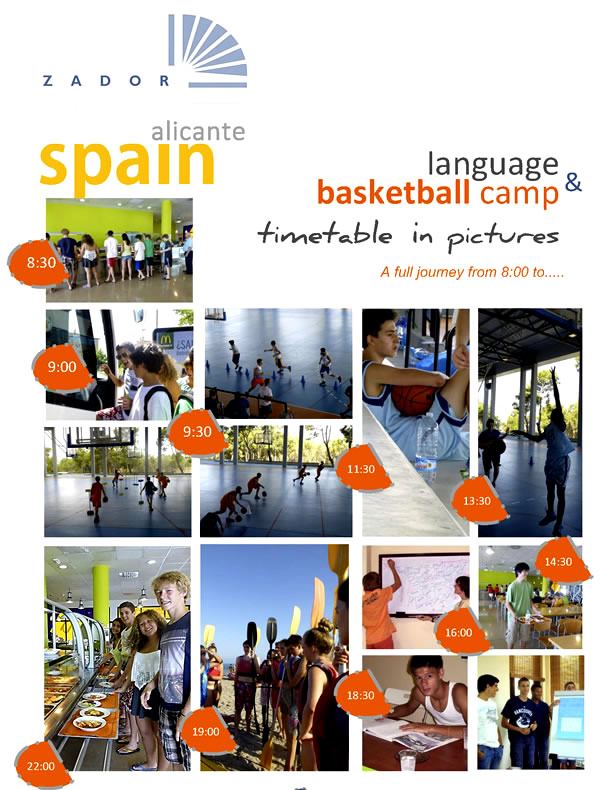 Enjoy many activities from sunrise to sunset…

Basketball Camp Website in other languages:
About ZadorSpain Camps
Language Courses

ZadorSpain, a Language Services Company with more than 30 years of experience, organises and promotes Language & Basketball Summer Camps in Spain. ZadorSpain, operating in Vitoria since 1990 and in Alicante since 2004, organises study abroad programs for foreigners in Spain.

Language & Sports Camps

Zadorspain organizesSport summer camps in co-operation with accredited Sport Clubs such Laboral Kutxa Vitoria Baskonia Basketball Club in Vitoria, Tennis Comp Academy and the Mediterranean Sailing School in Alicante.

Summer Camps for Juniors & Children

International Summer Camps in Spain for teenagers and children: 2, 3, 4, 6 or up to 8 week Spanish language course and sports camps -professional and experienced trainers and coaches from well-known and reputable sports clubs and schools- with Spanish teenagers and children in Alicante, Valencia region, or in Vitoria, Spain.
Basketball Camps in Spain Contact
Basketball Camps News