Zador language school in Alicante
Spanish and English courses in Alicante
Language school in Alicante city centre
Zador language school in Alicante is located at 14, AVENIDA DE LA CONSTITUCIÓN, near the corner of Alfonso X el Sabio Street, between the Central Marketplace and the city's Teatro Principal theatre.
The language school is very well situated, 7-10 minutes on foot from the beach, in a very dynamic and commercial area of Alicante. The Zador Alicante Spanish school premises comply with all the legal requirements and are accessible to for the disabled.
Language school facilities
An ample reception area, where you will find a sofa and to relax during the breaks between your Spanish lessons.
An office where there will always be someone to inform and help you.
Directo's office where you can go if you need some advice about your Spanish course, if you want to change your accommodation...
8classrooms, each decorated in a different style where you will certainly enjoy working and learning.
Rest room to read a book or magazine or relax during breaks between your Spanish lessons and chat with your friends.
Ccomputer area, from which you can send and receive your emails. Free Internet access at the school. WIFI.
Spanish school is equipped with air-conditioning.


The Zador Alicante Spanish school premises comply with all the legal requirements and are accessible to for the disabled.
Language Courses for adults all around the year
Intensive Spanish language courses: General or Specialised Spanish courses
Intensive or semi-intensive English, French or German courses
Sports and language Summer camps for Juniors and Children
FOR 2022 DUE TO COVID
Zadorspain Camps includes as a present CANCEL TRAVEL INSURANCE FOR overnight campers. For the DAY CAMPERS, please consult us.
"Pleasant and welcoming school premises where you will certainly enjoy learning Spanish..."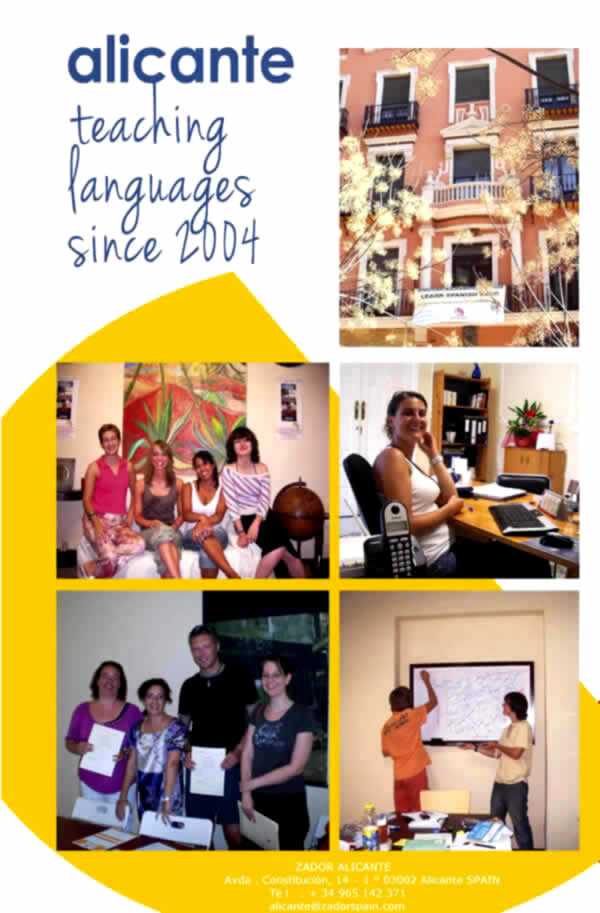 Basketball Camp Website in other languages:
About ZadorSpain Camps
Language Courses

ZadorSpain, a Language Services Company with more than 30 years of experience, organises and promotes Language & Basketball Summer Camps in Spain. ZadorSpain, operating in Vitoria since 1990 and in Alicante since 2004, organises study abroad programs for foreigners in Spain.

Language & Sports Camps

Zadorspain organizesSport summer camps in co-operation with accredited Sport Clubs such Laboral Kutxa Vitoria Baskonia Basketball Club in Vitoria, Tennis Comp Academy and the Mediterranean Sailing School in Alicante.

Summer Camps for Juniors & Children

International Summer Camps in Spain for teenagers and children: 2, 3, 4, 6 or up to 8 week Spanish language course and sports camps -professional and experienced trainers and coaches from well-known and reputable sports clubs and schools- with Spanish teenagers and children in Alicante, Valencia region, or in Vitoria, Spain.
Basketball Camps in Spain Contact
Basketball Camps News