Basketball Camp in Vitoria:Basketball lectures/Documentary films or Group Dynamic
The main activity, of course, is basketball but campers also have other activities: four days per week (Monday, Tuesday, Thursday and Friday) after lunch time all players have other activities than basketball from 1h.
Private Spanish lessons on request
Spanish language courses taught by Zador language School in Vitoria are designed to obtain practical results in Spanish language skills: verbal fluency, quick listening and reading comprehension, as well as correct writing.
The lessons are taught by fully qualified professionals who have ample experience in teaching Spanish to foreigners from all over the world. The teachers use imaginative techniques and systems, some traditional and others innovative, encouraging the students to obtain the maximum results while they are with us.
Spanish lessons Highlights
Levels: From Beginners to Advanced.
Place: Spanish lessons at the Basketball Camp.
Duration: 1 or 2 weeks.
Number of lessons: 1 or 2 hours per day 4 days a week
Material and/or book: Included in the price.
Timetable: Usually from 15'30-16'30 from Monday to Friday.
Level Test (written and oral test) on arrival.
Certificate of Attendance at the end of the course.
General Spanish language and vocabulary about sports and basketball.
Lessons in one-to-one.
Private English lesson on request
English lessons have a communicative focus to enjoy learning English vocabulary.
English lessons Highlights
Levels: from beginners to advanced levels.
Place: at the Basketball Camp.
Duration: 1 or 2 weeks.
Number of lessons: 1 or 2 private lesson per day 4 days per week
Timetable: Usually from 15'30-16'30 from Monday to Friday.
General English language and vocabulary about sports and basketball.
Private language lessons on request
Basketball Lectures or Documentary films about basketball
Basketball lectures or Documentary films about basketball last 1 hour and are mainly in Spanish language.
Group Dynamic
Group Dynamic activities are mainly in Spanish language.
The group dynamics are useful in understanding decision-making behaviour. Group dynamics are at the core of understanding racism, sexism, and other forms of social prejudice and discrimination. "Group dynamics" describes the effects of roles and behaviors on other group members, and on the group as a whole. A group with a positive dynamic is easy to spot. Team members trust one another, they work towards a collective decision, and they hold one another accountable for making things happen.
Some topics en previous editions are:
How to deal with emotions
From a group to a team
The Effects of Team Cohesion
To achieve common goals and group identity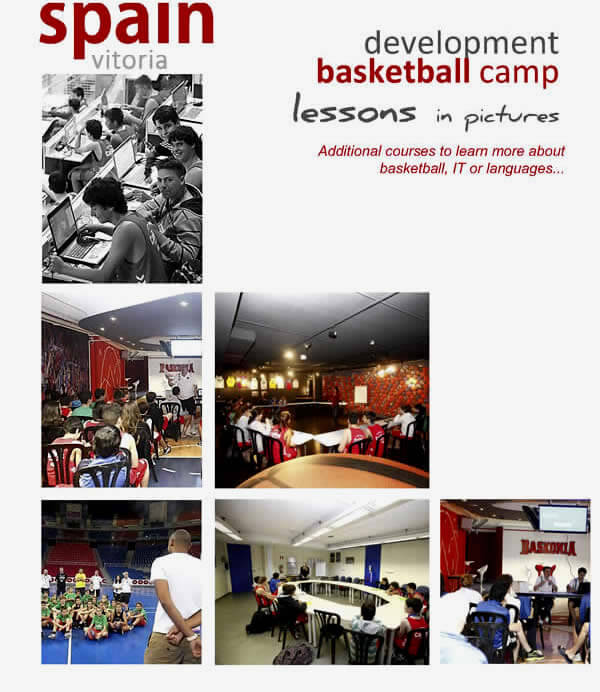 Taking part in the Baskonia Vitoria Basketball Camp, one of the best Basketball Teams in Europe in the last years, will be an experience you will never forget.

Available seats at the Basketball Camp in Vitoria 2022
Basketball Camp Website in other languages:
About ZadorSpain Camps
Language Courses

ZadorSpain, a Language Services Company with more than 30 years of experience, organises and promotes Language & Basketball Summer Camps in Spain. ZadorSpain, operating in Vitoria since 1990 and in Alicante since 2004, organises study abroad programs for foreigners in Spain.

Language & Sports Camps

Zadorspain organizesSport summer camps in co-operation with accredited Sport Clubs such Baskonia Basketball Club in Vitoria, Tennis Comp Academy and the Mediterranean Sailing School in Alicante.

Summer Camps for Juniors & Children

International Summer Camps in Spain for teenagers and children: 2, 3, 4, 6 or up to 8 week Spanish language course and sports camps -professional and experienced trainers and coaches from well-known and reputable sports clubs and schools- with Spanish teenagers and children in Alicante, Valencia region, or in Vitoria, Spain.
Basketball Camps in Spain Contact
Basketball Camps News