Basketball Camp in Vitoria Spain: Dates & Prices
Dates and Prices 2020
Camp Schedule
Duration: 1 or 2 week Summer Camp
Dates 2020:: 28 June to 12 July for 2 week Camp, and 28 June to 5 July or 5 to 12 July for 1 week Camp
Price:: Select the services that you want and send us an email to receive a quotation.
Summer Basketball Camp Package
— Accommodation: residence accommodation Full board with breakfast, lunch, dinner and 2 snacks.
— Intense Basketaball Instruction from Monday to Saturday (aprox. 6.50 daily hours of basketball) with professional basketball coaches at one of the best European basketball Clubs, Baskonia Basketball Club in Vitoria, Spain, one of the best teams in Europe in the last years.
— Care and supervision and off-court activities
— Each camper will be provided with 2 T-Shirts, 2 Basketball Jerseys, 1 basketball short for 1 week camp and 3 T-Shirts, 3 Basketball Jerseys, 2 basketball shorts for 2 week camp
— Guided tour to visit Vitoria
— Off Campus activities: swimming pool, cultural visit and activities
— Local transports.
— Basketball camp insurance: Medical and accident insurance
— Group leaders with players every day.
— Awards ceremony and farewell party on Saturday evening at the Buesa Arena Sports Hall
Optional weekend in Barcelona or Madrid for groups
Transfers from Barcelona or Madrid airport.
Friday and Saturday in Barcelona/Madrid in a Hotel with everything included and guided tours to visit the most interesting places in the city.
Friday afternoon historical Barcelona: La Sagrada Familia, el Parque Güell, Las Ramblas, the Gothic Quarter…
Saturday morning Sportive Barcelona: Nou Camp where Barcelona Football Team plays, Palau Sant Jord, Olympic area and the afternoon, etc
Two guided tours to know the "Sportive Madrid", visiting Santiago Bernabeu (Football Stadium of Real madrid), and the "Historical Madrid", visiting Prado and Reina Sofia Museums, Plaza Mayor, Palacio Real, etc.
Other optional services
—Extra nights before or after the Summer Camp
—Transfer from 22:00 to 8:00 in Vitoria
—Transfer from Vitoria, Bilbao or Biarritz airport
—Transfer from other airports, please consult us.
—1 or 2 Private Spanish language lessons on request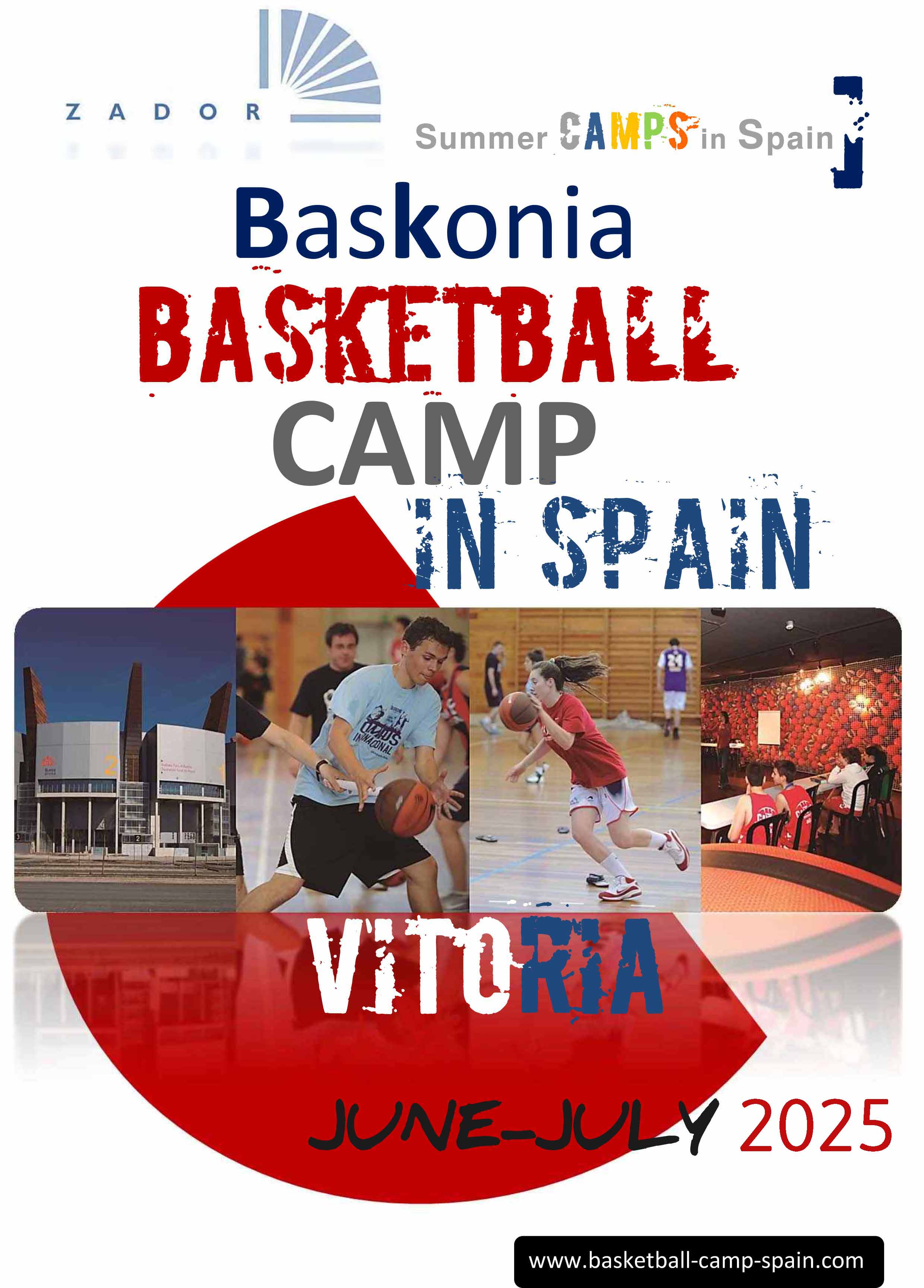 Taking part in the Baskonia Basketball Camp in Vitoria, one of the best Basketball Teams in Europe in the last years, will be an experience you will never forget.

Available seats at the Basketball Camp in Vitoria 2020
Basketball Camp Website in other languages:
About ZadorSpain Camps
Language Courses

ZadorSpain, a Language Services Company with more than 24 years of experience, organises and promotes Language & Basketball Summer Camps in Spain. ZadorSpain, operating in Vitoria since 1990 and in Alicante since 2004, organises study abroad programs for foreigners in Spain.

Language & Sports Camps

Zadorspain organizesSport summer camps in co-operation with accredited Sport Clubs such Baskonia Basketball Club in Vitoria, Tennis Comp Academy and the Mediterranean Sailing School in Alicante.

Summer Camps for Juniors & Children

International Summer Camps in Spain for teenagers and children: 2, 3, 4, 6 or up to 8 week Spanish language course and sports camps -professional and experienced trainers and coaches from well-known and reputable sports clubs and schools- with Spanish teenagers and children in Alicante, Valencia region, or in Vitoria, Spain.
Basketball Camps in Spain Contact
Basketball Camps News