Basketball Camp in Spain VITORIA 2020
Vitoria Basque Country Spain
Vitoria is on a wide plain, surrounded by mountains and lakes, 60 km. away from the coast of the North of Spain, 30 km from the vineyards and the wine cellars of La Rioja and 50 km from the Monasteries where the Spanish Language was born, VITORIA, untouched by massive tourism, is a city in which to discover the miracle of the fusion of the past and the strength of the future.
Vitoria is an old town because of its history and a young town because of its development. It will surprise you for its excellent quality of life and will catch you with its vitality.
The main locations for the Basketball Camp in Vitoria
Buesa Arena Sports and Baskonia Sport City (BAKH) are the main facilities for the basketball camp and they are located in the surrounding area of Vitoria. City centre is around 45 minutes walking and 15 minutes by car. There is public transport.
Buesa Arena is an indoor sports arena primarily used for basketball and is the home arena of Baskonia.
The arena's seating capacity, for basketball, is up to 15,504 people. It houses 2 basketball courts where youngest players train every day.
Baskonia Sport City (BAKH) is in the surrounding area of Vitoria, on the East of the city. Here you can see the city map with the Green Belt and the area of Salburua Park on the East of the city. Baskonia Sports City is located near the Natural Park of Salburua.
In this luxury complex of 40,000 m2, sports facilities occupy 15,000 m2. The fully-equipped facilities offers the user a wide range of different spaces and activities:
- 3 indoor basketball courts
- Ice and Curling Rink
- Multipurpose track
- Indoor swimming pools with areas for hydrotherapy and baby swimming; Outdoor swimming pool with different areas (children, hydrotherapy, play area, etc.)
- Wellness area: Four swimming pools at different temperatures, heated deckchairs, relax area, sauna, Turkish bath, ice fountain, four sensation showers, etc. ( SPA )
- Muscle-building and cardiovascular gym, as well as three gyms with guided activities.
- Outdoor areas with 10 paddle tennis courts (6 indoor and 4 outdoor), 2 tennis courts, playing grounds, rollers and cycling circuit.
- Ourdorr Basketball courts (just for recreation not for training), children's games, table tennis, etc.
- Social area with restaurant and a bar

Other Sport Halls University Sport Hall with 3 indoor basketball courts, Abetxuko with 3 indoor courts and Aranalde with 2 indoor halls.
The distance from the Residence halls to the basketball facilities is provided by private buses/coaches in 10-15 minutes when necessary. Some players are in a walking distance.
Jardines de Aristi Apartments are a new and modern tourist apartaments located near Buesa Arena and Baskonia Sport Center (around 5 minutes walking).
Players, coaches and assistant coaches will be lodged here in mini-apartaments with 1 twin room, 1 single room and a living-room with another bed, a small kitchen with microwave and frigde.
Apartment reception is the Check-in and check-out places for overnigth players.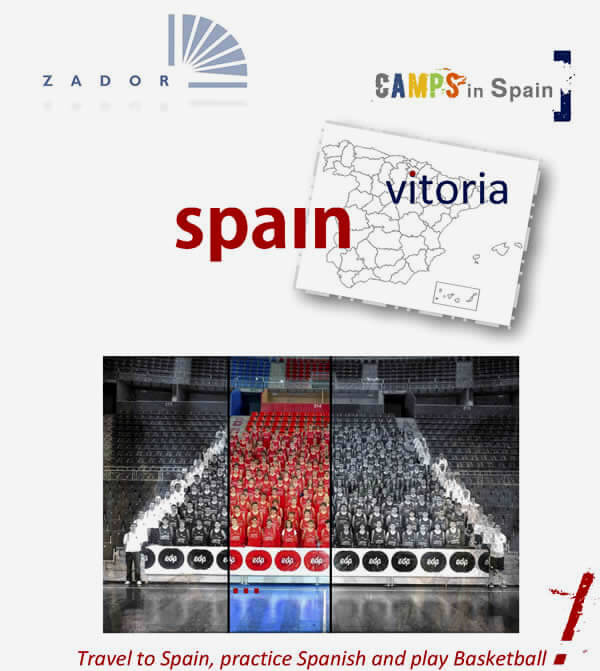 If you wish to see the area of the Basketball Camp, type Buesa Arena and that is. Baskonia Sport Center (Bakh) is just in front of and the accommodation is only 7 minutes walking.

Ver
Campus Baloncesto Vitoria
en un mapa más grande
Available seats at the Basketball Camp in Vitoria 2020
Basketball Camp Website in other languages:
About ZadorSpain Camps
Language Courses

ZadorSpain, a Language Services Company with more than 24 years of experience, organises and promotes Language & Basketball Summer Camps in Spain. ZadorSpain, operating in Vitoria since 1990 and in Alicante since 2004, organises study abroad programs for foreigners in Spain.

Language & Sports Camps

Zadorspain organizesSport summer camps in co-operation with accredited Sport Clubs such Vitoria Baskonia Basketball Club in Vitoria, Tennis Comp Academy and the Mediterranean Sailing School in Alicante.

Summer Camps for Juniors & Children

International Summer Camps in Spain for teenagers and children: 2, 3, 4, 6 or up to 8 week Spanish language course and sports camps -professional and experienced trainers and coaches from well-known and reputable sports clubs and schools- with Spanish teenagers and children in Alicante, Valencia region, or in Vitoria, Spain.
Basketball Camps in Spain Contact
Basketball Camps News